Commercial Moving
Commercial Moving Company
Care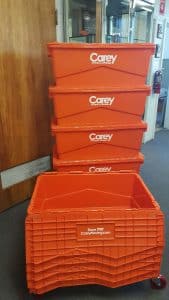 y Moving & Storage has over 75 years experience in efficiently managing all types of local, interstate, and international commercial moving. When companies need an experienced commercial moving company who can provide exceptional service and minimize downtime, they turn to Carey.
From office to industrial moves, our designated project managers and move counselors can coordinate your company relocation. We will first meet with you to determine the services you need, then coordinate your company relocation from start to finish. As one of the country's most trusted commercial moving companies, we move your company efficiently and carefully. We also provide many secure storage and warehousing options.
Searching for "commercial movers near me"?
Click on one of our Southeast Service Areas Below:
Need a free moving estimate today? Call Carey-Your Commercial Moving Company